Superior service includes 'one-piece MOQ'
Scorpion Precision Industry was established in 1987 and initially dedicated itself to the manufacture of metal components. In 1988, the company moved into producing metal pins, from photo etching to stamping, and has now become a specialist in manufacturing pins. By 1992, Scorpion Precision Industry (H.K.) Co Ltd was set up to pioneer China investment for the company.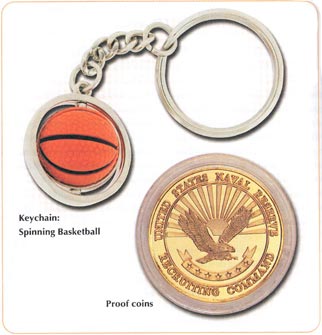 Since then, the company's business has expanded to provide a wide and integrated range of services of the design, production and distributions of lapel pins; enamel badges; keychains; medals, coins and rubberized PVC items, as well as unique promotional items developed to buyers' requirements.
Asked what he foresees in the future development of these items as gifts and premiums, Mr. Georges Ouang, the company's managing director, highlighting added complexity and technicality in product designs. He explained that there has been an increasing number of competitors coming into play in the sector, and the biggest markets for these products - the USA and Europe - are becoming saturated. As a result of these two factors, the sector has been experiencing continuous pressure on prices.
At present, the USA and Europe combined represent more then 50 per cent of Scorpion's sales.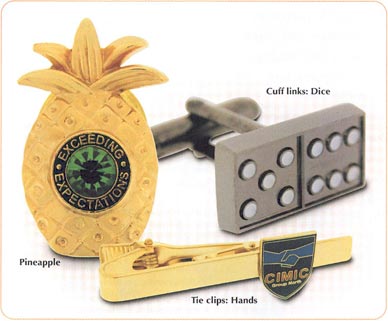 "Quality is our first goal. We believe it is a must in survival", Ouang said. "At the same time, we strive to provide first-class services in meeting our customers' needs-namely, prompt responses to customer inquires; flexibility in lead-time; transparency of order progress; and additional support in special project." He went on to state Scorpion's policy concerning minimum order quantities: "We cannot make less then one piece!"
Scorpion's products are exported to 70 countries worldwide. For the future, the company plans to focus on developing markets in the Middle East, Russia, South America and Canada.
According to Ouang, the gifts and premiums sector is one of the first markets to be hit whenever uncertainties arise in the global economy. This, in his option, is the biggest challenge facing manufactures. "From year to year, sales can fluctuate drastically as a result of changes in economic conditions."
As a means to better prepare itself for these uncertainties, said Ouang, Scorpion's strives to differentiate itself and it's products from others by developing new and innovate production process and enhancing it's know-how; white remaining vigilant for market changes.
The company's manufacturing processes are carried out in 35.000 sq m factory in Zhongshan, China, where a workforce of 1,700 is employed. The factory is Disney-approved and ISO-9002-certified. Scorpion produces about 6 million pieces monthly, and 2003 generated a turnover of US$17 million.